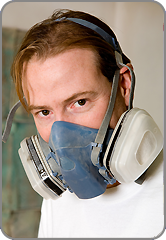 IEE Respirator Fit Testing
IEE can handle your annual respirator fit test requirement. If you are attending a class at IEE, you can even schedule your fit test during a break or at the end of the day. The cost is only $45.00 and IEE can perform either a pass/fail Qualitative test or the more detailed Quantitative test where you receive an actual fit factor indicating how well your respirator is protecting you.
To be fit tested please call IEE prior to coming to make sure we have the proper adapter on-site for your specific respirator. Also make sure you:
Bring in your respirator
Bring a copy of your medical approval from a licensed physician
Refrain from smoking 1 hour before the fit test
Be clean shaven
Remember that all tight fitting respirators must be fit tested including positive pressure respirators. IEE can also provide you with a half face respirator to take home with you (cost not included above).
New England's Largest Environmental Trainer... So why not join us!