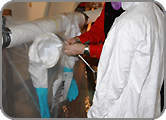 IEE Asbestos Consulting
IEE offers asbestos inspections as well as on-site consulting for both residential and commercial properties. Knowing whether there is asbestos containing material (ACM) or presumed asbestos containing material (PACM) in your property can protect you from the harmful effect of asbestos, if the need arrives to work on or around the asbestos.
IEE can provide complete asbestos consulting services including building inspections and pre-demolition asbestos surveys, asbestos abatement oversight, air and bulk sampling for asbestos, asbestos management and design services and asbestos training.
IEE's team includes Accredited and Certified Asbestos Consultants, with decades of asbestos experience in numerous states. IEE's knowledgeable staff can help you navigate through the many asbestos disciplines and the roles and responsibilities of each.
The Institute for Environmental Education (IEE) was originally founded in 1987 as an asbestos consulting company and has over two decades of continuous asbestos consulting experience.
New England's Largest Environmental Trainer So why not join us!