Facilities & Locations
IEE Wilmington, MA
Institute for Environmental Education, Inc. (IEE) headquarters is located at 16 Upton Drive, Wilmington, Massachusetts. We are conveniently located 18 miles north of downtown Boston and less than 1 mile from Route 93 in Wilmington, Massachusetts. Travel time is 25 minutes from Boston, 40 minutes from Manchester, NH and 55 minutes from Worcester, MA and Concord, NH.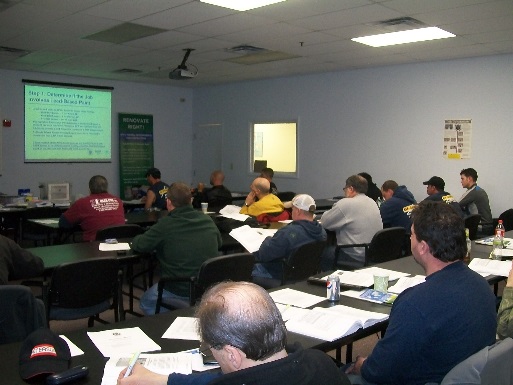 Our 10,782 sq. ft. training center consists of five (5) classrooms/lab areas; a hands-on training area/warehouse which includes a building mock-up; a student lounge; and administrative offices. The classrooms and hands-on area are equipped with the equipment and materials essential for training in the Environmental and Occupational Health and Safety field.
IEE Derry, NH
We have an office located in Derry, NH. While most of the work out of this office is in the form of consulting services, we do have the option to use classrooms at the Marion Gerrish Community Center (located at 39 West Broadway, Derry) which can accommodate classes of up to 20 students.
Albany, NY
Through an alliance with Asbestos Lead Environmental Consulting Services (ALECS) in Troy NY (located at 185 3rd Street), we provide NYS approved asbestos training in the greater Albany area. Training courses are conducted by IEE staff and/or Donald Alford, owner of ALEC Services. We are able to accommodate classes of up to 10 students at this facility.
On-Site Courses
Courses may also be provided on-site at a clients' facility upon request. When a course is provided on-site, IEE ensures that the facility is conducive to the training course's, lectures and hands-on training components. We provide portable equipment and materials for onsite courses for the purpose of facilitating the hands- on activities of the course.
Equipment List
Our relationship with various equipment manufacturers and distributors allows us access to the most up-to-date equipment available. If the equipment is too large to keep at IEE Wilmington, or transport to an onsite course, IEE typically shows this equipment in a PowerPoint slide presentation. New equipment may be added if it is determined that the equipment will contribute to "state-of-the-art" work practices.
The following equipment is used during applicable course at IEE.
1) Protective Equipment: Respirators and Protective Clothing
2) Work Area Preparation

half-face dual cartridge respirators
(sizes S,M, and L)
full-face dual cartridge respirators
(Sizes S,M, and L)
powered-air purifying respirators
disposable coveralls, hoods, and booties
gloves and glove extenders
duct tape
fit-test equipment (qualitative and quantitative)
aspirators and ventilation smoke tubes
cleaning pads
cleaning solution
hard hats and safety goggles

X-Poly
4 and 6 mil polyethylene sheeting
duct tape
spray adhesive
6 mil disposal bags
OSHA danger signs
first aid kit
caution/danger tape
assorted tools including: hammers, staplers, screwdrivers, retractable knives, scissors
portable GFI
HEPA Vacuums
3) Environmental Monitoring
4) Paint Chip Sampling Equipment
5) Lead-Based Paint Equipment

personal air monitoring system
high volume air sampling pump
sampling cassettes
Calibration equipment
PCM microscopes

knives
scrapers
spray bottles
sample bags
sample canister containers
gloves

heat guns
chemical/caustic strippers
scrapers
5 inch bench grinder
Ghost wipes for Lead dust sampling
X-ray fluorescent analyzers
Sodium Sulfide for Massachusetts Courses
We are well-equipped to serve you at our facility or yours!