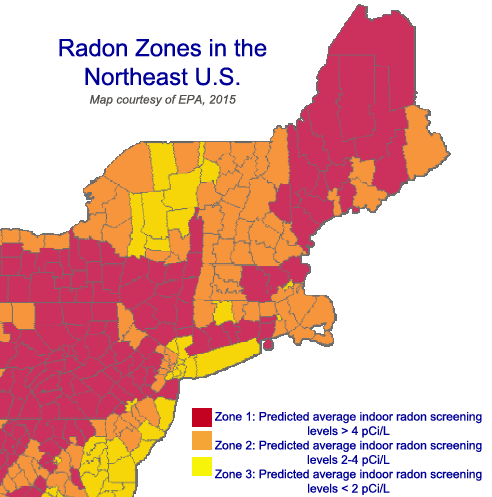 IEE Radon Testing
Put the Institute's expertise in radon testing to work for you!
Radon is a naturally occurring gas, formed by the breakdown of uranium in soils and rock. As this gas is formed, it travels through the pore spaces, cracks and gaps in the soil and rock. It can travel into homes through cracks in foundations, spaces between the foundation and bottom sills of walls, expansion joints, utility trenches, well water, and many other ways. Because it is a gas, even seemingly small openings provide a potential entry point for radon to enter the home.
You cannot see or smell radon gas; it is invisible and odorless. It is also radioactive, and is the 2nd leading cause of lung cancer in the United States. The EPA estimates that nearly 1 in 15 homes in the United States have elevated levels of radon. The EPA recommends homeowners take action if their indoor radon levels are equal to or greater than 4 picocuries per liter (pCi/L).
The only way to know the radon levels in your home is by testing for radon. IEE offers the following options for those who would like to test the radon levels in their home:
| | |
| --- | --- |
| Order Radon test kits: | IEE will mail the test kit to you, with instructions included. Carefully following the instructions, you will place the test kit for the designated number of hours, after which you will seal and mail the kit to the lab for analysis. Lab reports are emailed upon analysis. Cost is $55 for a set of 2 Liquid Scintillation Vial tests and lab analysis. |
| Radon measurement services: | Some insurance companies require a certified Radon professional conduct the testing for radon in a home. If you need or want a certified Residential Radon Measurement Technician, IEE will travel to your home to place the Radon test kit. Depending on your needs, IEE can either set up and retrieve the test kits, or set up for you to later collect and mail. Pricing would include the $55 test kit, as well as travel time, time on-site, and mileage. Please call IEE for a specific quote. |
New England's Largest Environmental Trainer... So why not join us!